Anthony Callea - Out In Perth Interview
Out In Perth 8th October 2011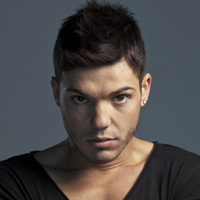 You'd think Anthony Callea would be used to the limelight by now but the 28 year-old admits he's not the most confident person when it comes to shooting a video clip.
'Oh my God, I'm so self-conscious when it comes to things like that,' said Callea.
'As much as we had fun recording it… it's just really hard making love to the camera for eight hours really,' he laughed.
The video clip in question is his new dance-pop single out this month, Oh Oh Oh Oh.
The single is the first we've heard from Callea since his 2007 single, Addicted to You. Callea has been busy working in Los Angeles on his new album due out next year.
'I didn't put any pressures or restrictions or barriers on me creatively and I just wanted to take it as it came.'
'There were so many nights that we went out with people and just had a great night when we went out to a club and I wanted to bring that feeling and that vibe into this track.'
DJ Poet, renowned for his involvement with the Black Eyed Peas and having worked closely with Will.I.Am, helped Callea put together the single in LA.
'What better person to create some sort of track in terms of a dance pop track than Poet? I remember walking into that studio and in the first 30 minutes, I knew we were onto something and we just clicked. 'He's totally loopy but I say that in the nicest way possible, you know you have to be somewhat loopy to work in the music industry in LA and [be] part of the Black Eyed Peas.'
The Melbourne-born artist hailed the DJ as a 'musical genius'. The pair wrote Oh Oh Oh Oh together in three hours and recorded most of it there and then.
Callea found his time in LA far more relaxed than ever before. He recalled sitting in the studio with a coffee in hand and recording vocals when his dad commented that Fergie, the Black Eyed Peas lead, had recorded some of her vocals on the same lounge.
'If she's done it, it's good enough for me,' he said at the time.
Since taking out the runner-up of Australian Idol in 2004, Callea has been supporting well known artists like Whitney Houston, Celine Dion, Diana Ross and Westlife on tour. He also starred in the first run of the Wicked in Australia as the lovable munchkin, Boq.
'For me it was a completely different experience doing live theatre, you know, going out on stage and not being me and not doing my songs and not having my band and sticking to a script, it's a completely different frame of mind.It was a great learning curve for me and it taught me a lot of discipline. Eight shows a week doing the exactly same thing and keeping it fresh, eight times a week is a challenge.'
Callea hasn't forgotten his links to the gay community here in Australia, though – he recently performed his new single at the Homosexual White Party in Sydney along with British pop star Sophie Ellis Bextor.
'It went off and it was great for me, you can spend so much time in the studio but I have to get out there and perform live…' The 28 year-old was a little coy about the line in his new single, 'You captivate my soul, boy,' but said the line could be taken anyway.
'Well I suppose you can take it two ways – you know, I've got nothing to hide and that's what I would naturally say and as a songwriter, I'm just putting my words into songs…' he said. 'You can take it anyway you want really.'
As for his relationship with Australian television and stage actor, Tim Campbell, Callea said the couple wanted to keep it as a normal one.
'We're very honest about our relationship but it's our relationship, no one else's relationship and you know, that's somewhat how we'd like to keep it. There's no reason to throw it in people's faces and at the end of the day, I do my job and he does his job. Like any relationship, when you get home at night you clock off and sit on the couch and have a glass of wine and just talk shit. We like to keep it a normal relationship, I suppose.'
For the rest of the year, Callea will be busy promoting the single while heading towards releasing his third album next year.
Callea appears to have gone all-out for the album, enlisting help from American songwriter Matt Morris. Morris has worked with artists like Christina Aguilera and Justin Timberlake, having written Aguilera's Fighter and tracks for JT.
'I've always been a fan of dance-pop music and that's something I listen to constantly, that was what I was surrounded by for the past two years and it really influenced my writing and my recording. The last two years I've done a lot of listening to people and listening to myself and being a fan of music again and putting that into my music.'
Anthony Callea's latest single is Oh Oh Oh Oh and is out now on iTunes.
Benn Dorrington Photograph by Peter Brew-Bevan
http://www.outinperth.com/index.php/music/anthony-callea